Totally Tubular
out of stock

Black

out of stock

Hot Pink

out of stock

Khaki

out of stock

White
Active Performance: Neck Tubes
Totally Tubular
Comfort Shell Lite
Active Performance: Neck Tubes
Totally Tubular
Comfort Shell Lite
SKU:
description
Offering ultra-lightweight, breathable coverage, this tube is a great option for your outdoor adventures, like runs, bike rides, and hikes. A similar design to our beloved Totally Tubular™, but half the length and less than half the weight, this half tube easily covers your nose and mouth, and falls just to the nape of the neck.
Ultralight and packed with power, the Comfort Shell Lite Upper Half Totally Tubular is breathable, quick-drying, and insanely soft. Inspired by our beloved Totally Tubular, we wanted to offer something shorter, lighter, and even more breathable. The Upper Half is just that - designed with YOU in mind, so you can go about your daily life, as well as your weekend adventures, without being burdened down by heavy fabric. This ultralight summer fabric is moisture-wicking, UPF 50+, breathable, and quick-drying. With bold color on both the outside and inside, and just one small seam up the back, this tube is now your go-to accessory for pulling double-duty as a neck scarf, sweat-wicking headband, hair pony, and more. If it sits a bit too loose on your face, we suggest
making two small cuts near the top to create slits for your ears
to help secure in place.
specs
size & fit
country of origin
4-Way Stretch

Anti-Microbial

Breathable

Full Coverage

Single-layer

UPF 50+
Fabric Type: Single-layer Comfort Shell™ Lite UV Performance Fabric
Fabric Content: 84% Polyester/16% Spandex
Fit Type: Regular. Loose On Smaller Faces. If loose, we suggest making two small cuts to create slits for ears to help secure in place
Weight: 0.825 oz
Dimensions: 9.75" (w) x 10" (l)
Care Instructions: Machine Wash Cold, Tumble Dry No Heat
weight
lightweight
midweight
heavyweight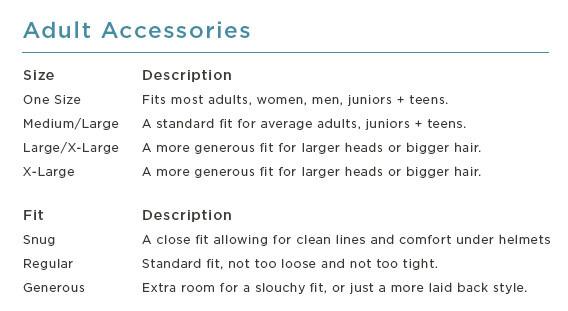 Country of Origin: Mexico
specs

4-Way Stretch

Anti-Microbial

Breathable

Full Coverage

Single-layer

UPF 50+

Fabric Type: Single-layer Comfort Shell™ Lite UV Performance Fabric
Fabric Content: 84% Polyester/16% Spandex
Fit Type: Regular. Loose On Smaller Faces. If loose, we suggest making two small cuts to create slits for ears to help secure in place
Weight: 0.825 oz
Dimensions: 9.75" (w) x 10" (l)
Care Instructions: Machine Wash Cold, Tumble Dry No Heat

weight

lightweight
midweight
heavyweight

size & fit

country of origin

Country of Origin: Mexico