Long Tail Totally Tubular w/Micro Fur Fleece
out of stock

Love Potion

out of stock

Oasis
Active Performance: Neck Gaiters
Long Tail Totally Tubular w/Micro Fur Fleece
Comfort Shell Stria
Active Performance: Neck Gaiters
Long Tail Totally Tubular w/Micro Fur Fleece
Comfort Shell Stria
description
Our neck tube partners up with a classic fleece neck warmer to bring you the Long Tail Totally Tubular™ with Micro Fur™. Multi-functional, lightweight, and insanely warm, this winter accessory is a must for those days when you need full face and neck coverage.

The combination of Comfort Shell™ and Micro Fur™ fleece on this extra-long tube work together to protect your face and neck from the elements. Single layer top with an 8 inch extension of fleece, this tube has you covered - not letting in the snow, sleet, or cold. Multi-functional and lightweight, the Long Tail Totally Tubular™ feels soft against the skin and is breathable, quick-drying, and odor resistant. With multiple ways to wear it, this tube ensures you stay warm and comfortable even on winter's harshest days.


*Please note that this product does not guarantee prevention from transmission or infection of disease. This product is not considered PPE, and is not intended to be used in any surgical, industrial, or high-risk situations where significant exposure to liquid, bodily, or other hazardous fluids may be possible. For questions relating to Coronavirus (COVID-19) and information on CDC recommended best practices, please visit the CDC's website or talk to your healthcare provider.


specs
size & fit
country of origin
UPF 50+

Folds to Double-layer

Odor Resistant

Quick Drying

Single-layer

4-Way Stretch

Breathable
Main Fabric Type: Single-layer Comfort Shell™ Stria UV Performance Fabric
Main Fabric Content: 88% Polyester/12% Spandex
Bottom Fabric Type: Single-layer Micro Fur™ Fleece
Bottom Fabric Content: 100% Polyester
Fit Type: Fitted
Weight: 4.6 oz
Dimensions: 10.25" (w) x 26.5" (l)
weight
lightweight
midweight
heavyweight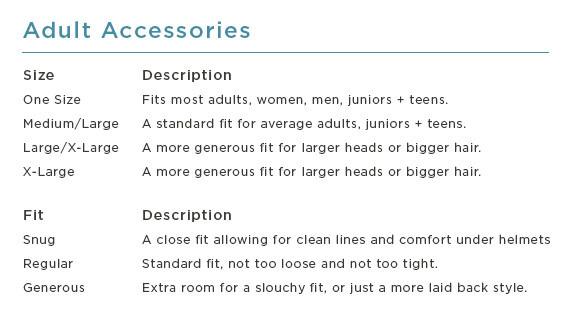 Country of Origin: Mexico
specs

UPF 50+

Folds to Double-layer

Odor Resistant

Quick Drying

Single-layer

4-Way Stretch

Breathable

Main Fabric Type: Single-layer Comfort Shell™ Stria UV Performance Fabric
Main Fabric Content: 88% Polyester/12% Spandex
Bottom Fabric Type: Single-layer Micro Fur™ Fleece
Bottom Fabric Content: 100% Polyester
Fit Type: Fitted
Weight: 4.6 oz
Dimensions: 10.25" (w) x 26.5" (l)

weight

lightweight
midweight
heavyweight

size & fit

country of origin

Country of Origin: Mexico