Game Face Bandana
Kids Active Performance: Facemasks
Game Face Bandana
Comfort Shell
description
This neck warmer will keep your child warm while the modern design will make them feel like the coolest kid on the slopes. When a traditional bandana style meets our classic neck warmers, you have the Game Face Bandana. It can be pulled up to give protection from the nose to the nape of the neck, while velcroing in the back for full coverage.

The Game Face Bandana is the perfect addition to any adventure out on the mountain. Rest assured that your little one wont feel the cold while out playing in the snow, skiing or snowboarding. This kids mask battles whipping winds with a hardy Comfort Shell exterior and microfleece lined interior. The thoughtful design called for cheek coverage without goggle interference and a perforated mouth area for easy breathability. These features allows for it to be worn without stifling airflow or restricting vision. With a Velcro-back closure, it's easy to put on kids while they grow even when they're all geared up for the mountain.


*Please note that this product does not guarantee prevention from transmission or infection of disease. This product is not considered PPE, and is not intended to be used in any surgical, industrial, or high-risk situations where significant exposure to liquid, bodily, or other hazardous fluids may be possible. For questions relating to Coronavirus (COVID-19) and information on CDC recommended best practices, please visit the CDC's website or talk to your healthcare provider.


specs
size & fit
country of origin
UPF 50+

Odor Resistant

Double-layer

Quick Drying

Full Coverage

4-Way Stretch

Breathable

Brushed for Softness

Recycled Content
Fabric Type: Comfort Shell Performance Fabric
Fabric Content: 100% Polyester
Closure Type: Adjustable velcro
Lining Type: Fully-lined with micro fleece. Perforated mouth area in lining
Lining Content: 100% Polyester
Fit Type: Adjustable
weight
lightweight
midweight
heavyweight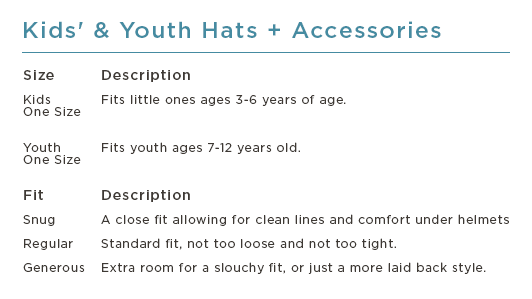 specs

UPF 50+

Odor Resistant

Double-layer

Quick Drying

Full Coverage

4-Way Stretch

Breathable

Brushed for Softness

Recycled Content

Fabric Type: Comfort Shell Performance Fabric
Fabric Content: 100% Polyester
Closure Type: Adjustable velcro
Lining Type: Fully-lined with micro fleece. Perforated mouth area in lining
Lining Content: 100% Polyester
Fit Type: Adjustable

weight

lightweight
midweight
heavyweight

size & fit

country of origin