Oversized Throw Blanket
out of stock

Glo Stik

out of stock

Henna

out of stock

Lotus

out of stock

Mauvelous

out of stock

Poseidon Blue

out of stock

Raisin' The Roof

out of stock

Sorbet

out of stock

Tea Rose

out of stock

Viva Violet
Adventure Gear: Blankets
Oversized Throw Blanket
Original Turtle Fur Fleece
Adventure Gear: Blankets
Oversized Throw Blanket
Original Turtle Fur Fleece
$ 128.99
$ 130.00
Unit price
per
translation missing: en.products.general.shipping_policy_html
out of stock

out of stock

out of stock

out of stock

out of stock

out of stock

out of stock

out of stock

out of stock
description
Want to be dreaming of all-time powder days and adventures in the snow? Well you can't do that without a good night's sleep. This soft and cozy blanket gives you sleep so deep and dreams so real that you'll wake up with your goggles on.
Frigid nighttime temps are no match for this blanket. With a design inspired by our beloved, best-selling
Baby Security Blanket
, and made with our Original Turtle Fur® Fleece, it's built to keep you snug and warm in the winter. The heavyweight construction of the fabric effectively traps heat to keep you warm and insulated, and the soft feel of the fleece gives you the relaxing comfort you need to drift off into dreamland. Best of all, this cozy acrylic fabric is made right here in the USA.
specs
size & fit
country of origin
UPF 50+

Double-layer

Made in USA

Since 1982

Soft & Warm
Fabric Type: Original Turtle Fur® Fleece
Fabric Content: 100% Acrylic
Dimensions: 58" x 70"
weight
lightweight
midweight
heavyweight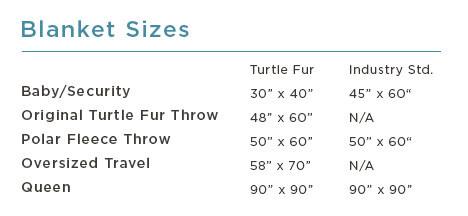 Country of Origin: Mexico
specs

UPF 50+

Double-layer

Made in USA

Since 1982

Soft & Warm

Fabric Type: Original Turtle Fur® Fleece
Fabric Content: 100% Acrylic
Dimensions: 58" x 70"

weight

lightweight
midweight
heavyweight

size & fit

country of origin

Country of Origin: Mexico