Totally Tubular Upper Half
Active Performance: Headbands
Totally Tubular Upper Half
Comfort Shell Lite Sport
Active Performance: Headbands
Totally Tubular Upper Half
Comfort Shell Lite Sport
description
The same outdoor versatility and functionality of our beloved Totally Tubular™, now lighter, more compact and easier to manage on high-output adventures.

Not only did we make our classic Totally Tubular™ better suited for sweat-inducing activities by using our active Comfort Shell™ Lite Sport fabric, but we also made it easier to manage by reducing its length. We know that when you're focused on the trail or the slopes you might not want to deal with excess fabric, so we decided to take it out of the equation. Our Upper Half™ design covers the full face and falls to the nape of the neck, giving you both full protection and an easy fit. The Comfort Shell™ Lite fabric breathes well, wicks away sweat, and even features a comfy, non-slip texture to keep it in place while you're on the move (however fast). And of course, it's got the reliable UPF 50+ protection you need to stay safe from the sun, as well as a special MicroBlok™ treatment to keep things fresh on multi-day outings or laundry-lax getaways.


*Please note that this product does not guarantee prevention from transmission or infection of disease. This product is not considered PPE, and is not intended to be used in any surgical, industrial, or high-risk situations where significant exposure to liquid, bodily, or other hazardous fluids may be possible. For questions relating to Coronavirus (COVID-19) and information on CDC recommended best practices, please visit the CDC's website or talk to your healthcare provider.


specs
size & fit
country of origin
Odor Resistant

Single-layer

Sensitive Skin

4-Way Stretch

Breathable
Fabric Type: Comfort Shell™ UV Sport Performance Fabric
Fabric Content: 88% Polyester/12% Spandex
Fit Type: Fitted
Weight: 0.5 oz
Dimensions: 9.25" (w) x 10" (l)
Care Instructions: Machine Wash Cold, Tumble Dry No Heat
weight
lightweight
midweight
heavyweight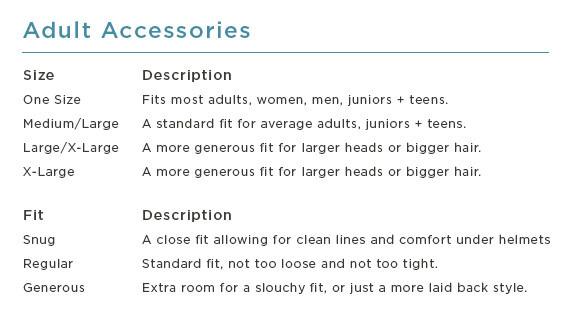 Country of Origin: Mexico
specs

Odor Resistant

Single-layer

Sensitive Skin

4-Way Stretch

Breathable

Fabric Type: Comfort Shell™ UV Sport Performance Fabric
Fabric Content: 88% Polyester/12% Spandex
Fit Type: Fitted
Weight: 0.5 oz
Dimensions: 9.25" (w) x 10" (l)
Care Instructions: Machine Wash Cold, Tumble Dry No Heat

weight

lightweight
midweight
heavyweight

size & fit

country of origin

Country of Origin: Mexico
product features