Totally Tubular Upper Half, Prints
out of stock

Plaidapus

out of stock

Rock Block

out of stock

Flower Flurries

out of stock

Ice Realm

out of stock

Orange Marbleade

out of stock

Tanks A Lot

out of stock

Fiori Rosa

out of stock

Full Spectrum

out of stock

Indigo Go

out of stock

Shadow Realm

out of stock

Topo B. Gray

out of stock

Topo B. Green

out of stock

Peach Blanket Bliss

out of stock

All Patched Up

out of stock

Sacred Wheel

out of stock

Chembots

out of stock

Upward Bound
Active Performance: Headbands
Totally Tubular Upper Half, Prints
Comfort Shell
Active Performance: Headbands
Totally Tubular Upper Half, Prints
Comfort Shell
$ 17.95
$ 20.00
Unit price
per
translation missing: en.products.general.shipping_policy_html
out of stock

out of stock

out of stock

out of stock

out of stock

out of stock

out of stock

out of stock

out of stock

out of stock

out of stock

out of stock

out of stock

out of stock

out of stock

out of stock

out of stock
description
It's our beloved Totally Tubular™, cut in half. That's half the length and half the weight, making this tube lighter and more functional for all of your outdoor adventures. It easily covers your nose and mouth, and falls just to the nape of the neck.
This lightweight tube is multi-functional, insanely soft, and offers coverage from sun, spray, windburn, and cold. Made of our proprietary Comfort Shell™ fabric, the Upper Half tube comes in at 10" in length - half the length of its parent product, the Totally Tubular™. When worn pulled up over the nose, the bottom should come to just shy of the nape of the neck, providing coverage for your nose and mouth. Thanks to the brushed interior, it feels insanely soft against the skin, no matter how you wear it. This tube packs a punch with its moisture-wicking, UPF 50+, breathable, and quick-drying properties. Printed on the outside and white on the inside, this tube has just one small seam up the back. It can do double-duty as a neck warmer/scarf, sweat-wicking headband, hair pony, and more. If it sits a bit too loose on your face, we suggest
making two small cuts near the top to create slits for your ears
to help secure in place.
*Please note that this product does not guarantee prevention from transmission or infection of disease. This product is not considered PPE, and is not intended to be used in any surgical, industrial, or high-risk situations where significant exposure to liquid, bodily, or other hazardous fluids may be possible. For questions relating to Coronavirus (COVID-19) and information on CDC recommended best practices, please visit the CDC's website or talk to your healthcare provider.
specs
size & fit
country of origin
UPF 50+

Odor Resistant

Quick Drying

Single-layer

4-Way Stretch

Breathable

Brushed for Softness

Recycled Content
Fabric Type: Comfort Shell™ UV Performance Fabric
Fabric Content: 92% Polyester/8% Spandex
Fit Type: Fitted
Weight: 0.9 oz
Dimensions: 9.75" (W) x 10" (L)
Care Instructions: Machine Wash Cold, Tumble Dry No Heat
weight
lightweight
midweight
heavyweight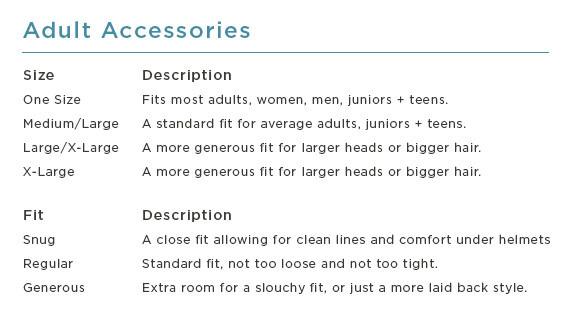 Country of Origin: Mexico
specs

UPF 50+

Odor Resistant

Quick Drying

Single-layer

4-Way Stretch

Breathable

Brushed for Softness

Recycled Content

Fabric Type: Comfort Shell™ UV Performance Fabric
Fabric Content: 92% Polyester/8% Spandex
Fit Type: Fitted
Weight: 0.9 oz
Dimensions: 9.75" (W) x 10" (L)
Care Instructions: Machine Wash Cold, Tumble Dry No Heat

weight

lightweight
midweight
heavyweight

size & fit

country of origin

Country of Origin: Mexico
product features