Shellaclava
out of stock

Baltic

out of stock

Storm

out of stock

Eclipse

out of stock

Rosewood

out of stock

Stardust
Active Performance: Balaclavas
Shellaclava
Comfort Shell Stria
Active Performance: Balaclavas
Shellaclava
Comfort Shell Stria
description
Made of our technical performance fabric, this balaclava is breathable, quick-drying, and provides warmth without the weight. With a striated texture, this warmth comes through eco-friendly technology. Fitting perfectly under a hat or helmet, it protects your neck, chin, cheeks and nose from the elements while feeling soft against your skin - thanks to the brushed interior.

Our Comfort Shell™ Stria Shellaclava™ is a genius design, combining a form-fitting hood and classic neck warmer for full coverage from the elements at all angles. The Comfort Shell™ hood has odor resistant properties, wicks sweat, provides UPF 50+ protection and is super soft for added comfort. The neck warmer is comprised of decadently soft micro fleece. This balaclava is designed to fit comfortably underneath a helmet while keeping your face warm while remaining breathable enough to assure that you don't overheat. When extended upward over the nose and mouth, the neck warmer portion provides protection from wind, rain, snow, cold and sun. Tucked into your collar or underneath goggles, this Winter essential never stops working for you to find your best self outside.


*Please note that this product does not guarantee prevention from transmission or infection of disease. This product is not considered PPE, and is not intended to be used in any surgical, industrial, or high-risk situations where significant exposure to liquid, bodily, or other hazardous fluids may be possible. For questions relating to Coronavirus (COVID-19) and information on CDC recommended best practices, please visit the CDC's website or talk to your healthcare provider.


specs
size & fit
country of origin
UPF 50+

Odor Resistant

Double-layer

Quick Drying

4-Way Stretch

Breathable
Fabric Type: Comfort Shell™ Stria UV Performance Fabric
Fabric Content: 88% Polyester/12% Spandex
Neck Lining Type: Fully-lined with micro fleece
Neck Lining Content: 100% Polyester
Fit Type: Regular
Weight: 2.5 oz
Dimensions: 10.25" (W) x 17" (L)
weight
lightweight
midweight
heavyweight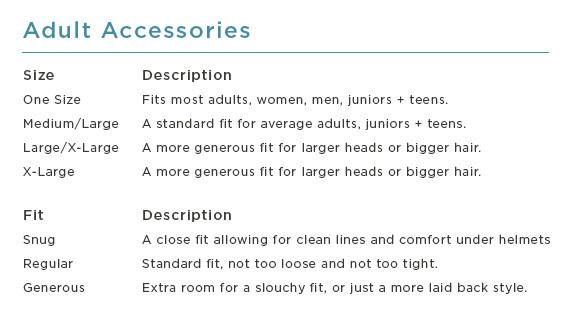 Country of Origin: Mexico
specs

UPF 50+

Odor Resistant

Double-layer

Quick Drying

4-Way Stretch

Breathable

Fabric Type: Comfort Shell™ Stria UV Performance Fabric
Fabric Content: 88% Polyester/12% Spandex
Neck Lining Type: Fully-lined with micro fleece
Neck Lining Content: 100% Polyester
Fit Type: Regular
Weight: 2.5 oz
Dimensions: 10.25" (W) x 17" (L)

weight

lightweight
midweight
heavyweight

size & fit

country of origin

Country of Origin: Mexico
product features