Totally Tubular
out of stock

On The Prowl

out of stock

Powder Hound

out of stock

Cocoa Luxe

out of stock

Cloaking Hazard

out of stock

Searchlight

out of stock

Cataflage

out of stock

Grow Up

out of stock

Haze

out of stock

Rainbow Sprinkles

out of stock

Scratchy Lines

out of stock

Water Color Daydream

out of stock

Grow More
Active Performance: Neck Gaiters
Totally Tubular
Comfort Shell
Active Performance: Neck Gaiters
Totally Tubular
Comfort Shell
$ 25.93
$ 30.00
Unit price
per
translation missing: en.products.general.shipping_policy_html
out of stock

out of stock

out of stock

out of stock

out of stock

out of stock

out of stock

out of stock

out of stock

out of stock

out of stock

out of stock
description
This pocket-packable, lightweight, multi-functional neck warmer is insanely warm and incredibly soft, protecting your face and neck from the sun, spray, windburn and cold. Made of our proprietary Comfort Shell™ fabric and coming in a variety of unique, reversible prints, the Totally Tubular™ offers all day coverage, comfort, and warmth.

The Totally Tubular: This multi-functional tubular gaiter is lightweight but packs a punch when it comes to saving your face and neck from windburn, sun, spray and cold. Its wicking properties help to keep sweat off of your neck and forehead through every season and it stays comfortable against sensitive skin with a soft, brushed interior. Our updated bold and bright reversible patterns will help you make a statement no matter where your outdoor adventures take you, and because the inside is as fun as the outside, you get two options to choose from. With over ten ways to wear and just one small seam up the back, the versatile Totally Tubular is a must-have for any athlete. Pocket-packable, it can be worn as a neck, clava, headband, and more, making it your go-to accessory for your demanding and active lifestyle.


*Please note that this product does not guarantee prevention from transmission or infection of disease. This product is not considered PPE, and is not intended to be used in any surgical, industrial, or high-risk situations where significant exposure to liquid, bodily, or other hazardous fluids may be possible. For questions relating to Coronavirus (COVID-19) and information on CDC recommended best practices, please visit the CDC's website or talk to your healthcare provider.


specs
size & fit
country of origin
Odor Resistant

Reversible

Full Coverage

Single-layer

4-Way Stretch

Breathable

Brushed for Softness

diy face mask

Recycled Content
Fabric Type: Comfort Shell™ UV Performance Fabric
Fabric Content: 92% Polyester/8% Spandex
Fit Type: Fitted
Weight: 4.4 oz
Dimensions: 9.75" (W) x 19.5" (L)
weight
lightweight
midweight
heavyweight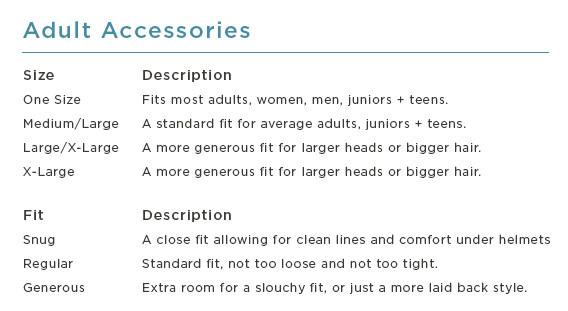 Country of Origin: Mexico
specs

Odor Resistant

Reversible

Full Coverage

Single-layer

4-Way Stretch

Breathable

Brushed for Softness

diy face mask

Recycled Content

Fabric Type: Comfort Shell™ UV Performance Fabric
Fabric Content: 92% Polyester/8% Spandex
Fit Type: Fitted
Weight: 4.4 oz
Dimensions: 9.75" (W) x 19.5" (L)

weight

lightweight
midweight
heavyweight

size & fit

country of origin

Country of Origin: Mexico